Dictionary Stories: Short Fictions and Other Findings (Paperback)
This website will display the millions of books available to order from us online. It does not necessarily represent the current inventory at our physical store. If you'd like to know if a particular title is on hand at our store, please contact us. Thank you!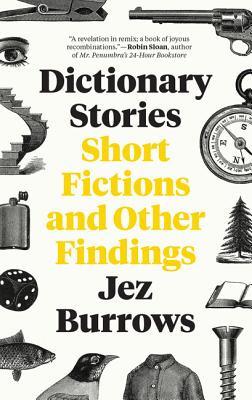 $16.99
Email or call for price.
Description
---
"Dictionary Stories isn't just a book for word nerds, but for anyone for whom language and story matter. Everybody will find themselves thoroughly in love with this book."  —Kory Stamper, editor for Merriam-Webster, and author of Word by Word
Everyone has looked up a word in the dictionary. Some of us have even asked for it to be used in a sentence during our 2nd grade spelling bee. But few of us have ever really considered those example sentences: where they come from, how they're generated…and why in heaven's name they are so darn weird.
Jez Burrows opened the New Oxford American Dictionary and sat, mystified. Instead of the definition of "study" he was looking for, he found himself drawn to the strangely conspicuous, curiously melodramatic sentence that followed it: "He perched on the edge of the bed, a study in confusion and misery." It read like a tiny piece of fiction on the lam and hiding out in the dictionary—and it wasn't alone. Was it possible to reunite these fugitive fictions? To combine and remix example sentences to form new works? With this spark and a handful of stories shared online, Dictionary Stories was born.
This genre-bending and wildly inventive collection glows with humor, emotion, and intellect. Effortlessly transcending sentence level, Burrows lights between the profound and the absurd, transporting readers into moments, worlds, and experiences of remarkable variety. Featuring original illustrations by the author, Dictionary Stories is a giddy celebration of the beauty and flexibility of language.
About the Author
---
Jez Burrows is a British designer, illustrator, and writer. He lives in San Francisco.
Praise For…
---
"A revelation in remix; a book of joyous recombinations." — Robin Sloan, New York Times bestselling author of Mr. Penumbra's 24-Hour Bookstore
"Dictionary Stories isn't just a book for word nerds, but for anyone for whom language and story matter. Everybody, A-Z, will find themselves thoroughly in love with this book." — Kory Stamper, lexicographer and editor for Merriam-Webster, and author of Word by Word
"Jez has long been one of my favorite illustrators, and now he comes up with Dictionary Stories—sentences stolen from dictionaries and pasted together into tiny, delightful narratives. A brilliant literary remix." — Austin Kleon, New York Times bestselling author of Steal Like an Artist
"Until you read Dictionary Stories, you'll never understand just how weird the dictionary really is. Jez Burrows' Dictionary Stories is all of human emotion and experience, handily arranged in alphabetical order" — Erin McKean, former editor of the New Oxford American Dictionary and founder of Wordnik
"Brilliantly, brazenly fun. Like a cabaret for word lovers." — Sean Michaels, author of Giller Prize-winning novel Us Conductors
"Burrows has a talent for a delightfully askew existentialism… The stories are wickedly short but exquisitely rendered, accompanied by whimsical, minimalist illustrations by the author. A fabulist remix of the English language and a tribute to clever lexicographers everywhere." — Kirkus Reviews
"[An] entirely original collection… With a deft eye for depth and irony, Burrows plucks seemingly inane phrases…and arranges them into haunting, hilarious, and human minidramas." — Booklist
"Uproarious and ingenious… What sounds like mere novelty turns out to be a revelation in Burrows's hands, as unlikely sentences generate even more unlikely narratives. Dictionary Stories is a joyful celebration of idiosyncrasy and invention." — Publishers Weekly (starred review)
"Chaotically engaging...exemplary...majestic." — KQED
"A serendipitous reading experience...Burrows challenges our ideas of the writing process and unpacks our understanding of what is literary." — Ploughshares
"They're absolutely addicting, and that is the highest praise I can bestow on this work—it is one task to bring good stories to people. It is another to bring a new game, a new form, a new diversion of the field. Burrows' burrows are just that, and if you, or your friends, are the sort who love words and playing with them, you should seek out a copy of this fine new book." — The Seattle Review of Books
"Dictionary Stories is a giddy celebration of the wild, elastic potential of language." — McSweeny's
"The most original book to be published in quite some time." — San Jose Mercury News
"An ingenious addition to literary exploration." — San Francisco Chronicle
"A brilliant, inventive book." — Psych Central
"You'll find everything from two-sentence short stories to a list of bands you probably haven't heard of. We've never read anything quite like it." — HelloGiggles