Zone One (Paperback)
This website will display the millions of books available to order from us online. It does not necessarily represent the current inventory at our physical store. If you'd like to know if a particular title is on hand at our store, please contact us. Thank you!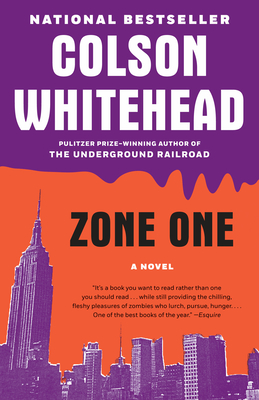 $16.00

Available from Crow via Warehouse. Usually Ships in 2-5 Days
November 2011 Indie Next List
---
"Finally, a zombie novel that's a literary tour de force! Whitehead's post-apocalyptic world decimated by zombies has a resonance well beyond the supernatural. The narrator, Mark Spitz (not that Mark Spitz), who is working with a team trying to eliminate infected stragglers in Zone One of Manhattan, recounts his experiences since the beginning of the terror. This story stayed in my mind for weeks."
— Carole Horne, Harvard Book Store, Cambridge, MA
Description
---
NATIONAL BESTSELLER • From the two-time Pulitzer Prize-winning author of The Underground Railroad and The Nickel Boys: A pandemic has devastated the planet, sorting humanity into two types: the uninfected and the infected, the living and the living dead.

After the worst of the plague is over, armed forces stationed in Chinatown's Fort Wonton have successfully reclaimed the island south of Canal Street—aka Zone One. Mark Spitz is a member of one of the three-person civilian sweeper units tasked with clearing lower Manhattan of the remaining feral zombies. Zone One unfolds over three surreal days in which Spitz is occupied with the mundane mission of straggler removal, the rigors of Post-Apocalyptic Stress Disorder (PASD), and the impossible task of coming to terms with a fallen world. And then things start to go terribly wrong…

At once a chilling horror story and a literary novel by a contemporary master, Zone One is a dazzling portrait of modern civilization in all its wretched, shambling glory.

Look for Colson Whitehead's bestselling new novel, Harlem Shuffle!
About the Author
---
Colson Whitehead is the Pulitzer-Prize winning author of The Underground Railroad. His other works include The Noble Hustle, Zone One, Sag Harbor, The Intuitionist, John Henry Days, Apex Hides the Hurt, and one collection of essays, The Colossus of New York. A National Book Award winner and a recipient of MacArthur and Guggenheim fellowships, he lives in New York City.
Praise For…
---
"It's a book you want to read rather than one you should read…while still providing the chilling, fleshy pleasures of zombies who lurch, pursue, hunger. . . . One of the best books of the year." —Esquire

"Whitehead writes with economy, texture and punch. . . . A cool, thoughtful and, for all its ludic violence, strangely tender novel, a celebration of modernity and a pre-emptive wake for its demise." —The New York Times Book Review

 "Uniquely affecting. . . . A rich mix of wartime satire and darkly funny social commentary. . . . Whether charged with bleak sadness or bone-dry humor, sentences worth savoring pile up faster than the body count." —The Los Angeles Times

"A zombie story with brains. . . . [Whitehead is a] certifiably hip writer who can spin gore into macabre poetry." —The Washington Post

"Zone One is not the work of a serious novelist slumming it with some genre-novel cash-in, but rather a lovely piece of writing...Whitehead picks at our nervousness about order's thin grip, suggesting just how flimsy the societal walls are that make possible our hopes and dreams and overly complicated coffee orders." —Entertainment Weekly
 
"Colson Whitehead's Zone One isn't your typical zombie novel; it trades fright-night fodder for empathy and chilling realism…yielding a haunting portrait of a lonely, desolate, and uncertain city." —Elle
 
"The stylistic exuberance on display would be overwhelming if it weren't so well controlled, shifting weightlessly from M*A*S*H-style battle narrative to a melancholic Blade Runner-like vision of Urban devastation. . . . The smallest of details is marked by originality of language." —The New Statesman
 
"Leave it to the supremely thoughtful and snarkily funny Whitehead to do interesting things with a topic that lately has seated itself in the public's imagination. . . . Not just a juicy experiment in genre fiction but a brilliantly disguised meditation on a 'flatlined culture' in need of its own rejuvenating psychic jolt." —The Seattle Times
 
"If you're going to break down and read a zombie novel, make it this one." —The Wall Street Journal
 
"Stylishly entertaining. . . . [Whitehead's] sentences are interesting, his plotting brisk, his descriptions lucid, and his asides clever." —The Plain Dealer
 
"In precise, elegant prose [Whitehead] deliberately layers the ever more disturbing elements of the story, one upon the other, allowing the reader to discover the horror in the same fragmentary manner we imagine frantic survivors might. . . . Resembles Cormac McCarthy's The Road. . . . An intense meditation on the way we cope with disaster and the stubborn, often inexplicable, persistence of the human will to survive." —Minneapolis Star-Tribune
 
 "A sharp commentary on the rat race of contemporary life. . . . Zone One lifts all the gore and gunfire and oozy bits one might expect from the genre. But this is Whitehead, so there's also popular culture to critique and parallels to draw between zombies and contemporary society." —The Houston Chronicle
 
"[Whitehead] takes the genre of horror fiction, mines both its sense of humor and self-seriousness, and emerges with a brilliant allegory of New York living." —New York Observer
 
"Highbrow novelist Colson Whitehead plunges into the unstoppable zombie genre in this subtle meditation on loss and love in a post-apocalyptic Manhattan, which has become the city that never dies." —USA Today

"For-real literary—gory, lyrical, human, precise." —GQ

"A satirist so playful that you often don't even feel his scalpel, Whitehead toys with the shards of contemporary culture with an infectious glee. Here he upends the tropes of the zombie story in the canyons of lower Manhattan. Horror has rarely been so unsettling, and never so grimly funny." —The Daily Beast
Coverage from NPR