A Mango-Shaped Space (Paperback)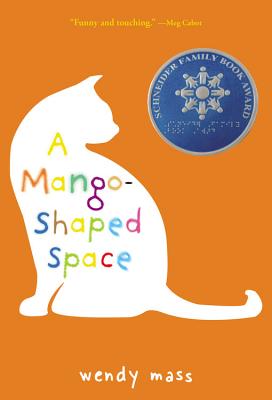 $8.99
Usually Ships in 1-5 Days
This coming of age story strays from the usual experience with Mia, a 13 year-old girl who has a condition called synesthesia. This means she associates colors and shapes differently than other people (numbers for example, each have a matching color for Mia). Once she realizes this aspect of her life, she finds the people around her  to be confused as well as fascinated. She must then navigate the usual trials of adolescence with a condition that proves both a challenge and a gift.
— Lydia
Description
---
An award-winning book from the author of Jeremy Fink and the Meaning of Life and The Candymakers for fans for of Wonder and Counting by Sevens.
Thirteen-year-old Mia Winchell is far from ordinary: she suffers from a rare condition called synesthesia, the mingling of perceptions whereby a person can see sounds, smell colors, or taste shapes. But because she has kept it a secret from everyone, she appears to be the most normal kid in her family. Her younger brother Zack keeps a chart of all the McDonald's hamburgers he's eaten in his lifetime. Her older sister Beth dyes her hair a different color every week and might be a witch.
When trouble in the school finally convinces Mia to reveal her secret, she feels like a freak; and as she embarks on an intense journey of self-discovery, her family and friends have trouble relating to her. By the time she realizes she has isolated herself from all the people who care about her, it is almost too late. Mia has to lose something very special in order to understand and appreciate her special gift in this coming-of-age novel.
About the Author
---
Wendy Mass won the ALA Schneider Family Book Award for her first young readers' novel, A Mango-Shaped Space, about a girl with the fascinating condition synesthesia. In Jeremy Fink and the Meaning of Life, a boy embarks on a life-changing journey. InEvery Soul a Star, three very different kids are brought together by a solar eclipse; and in The Candymakers, four kids enter the contest of a lifetime. The Space Taxi series sends a boy and a talking cat on adventures to distant planets, and the Willow Falls books (beginning with 11 Birthdays) add a dash of magic into a small town. Wendy lives in New Jersey with her family.
Praise For…
---
"An original, brightly written tale."—Washington Post

"An intriguing first novel. Well-defined characterizations, natural-sounding dialogue, and concrete imagery."—Publishers Weekly

"Funny and touching at the same time. Wendy Mass has a winner in Mango's Mia!"—Meg Cabot

"From the moment I read a story by Wendy Maas I knew she was a writer to watch. I welcome her first book and am certain young readers will, too."—Judy Blume

"I love it! Such an interesting, touching story about an issue I knew nothing about. And I want to adopt Zack and keep him forever."—Karen Cushman, author of the Newbery Medal winner The Midwife's Apprentice