Courage & Defiance: Stories of Spies, Saboteurs, and Survivors in World War II Denmark (Scholastic Focus) (Hardcover)
This website will display the millions of books available to order from us online. It does not necessarily represent the current inventory at our physical store. If you'd like to know if a particular title is on hand at our store, please contact us. Thank you!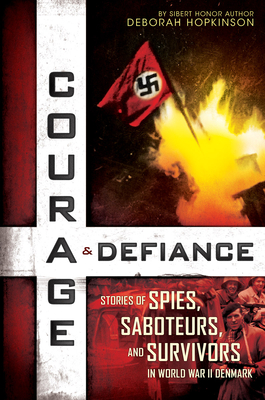 $17.99
Email or call for price.
Description
---
Critically acclaimed Sibert Honor author Deborah Hopkinson brings to bold life the remarkable story of the Danish resistance and rescue of over 7,000 Jews during WWII.When the Nazis invaded Denmark on Tuesday, April 9, 1940, the people of this tiny country to the north of Germany awoke to a devastating surprise. The government of Denmark surrendered quietly, and the Danes were ordered to go about their daily lives as if nothing had changed. But everything had changed. Award-winning author Deborah Hopkinson traces the stories of the heroic young men and women who would not stand by as their country was occupied by a dangerous enemy. Rather, they fought back. Some were spies, passing tactical information to the British; some were saboteurs, who aimed to hamper and impede Nazi operations in Denmark; and 95% of the Jewish population of Denmark were survivors, rescued by their fellow countrymen, who had the courage and conscience that drove them to act. With her talent for digging deep in her research and weaving real voices into her narratives, Hopkinson reveals the thrilling truth behind one of WWII's most daring resistance movements.
About the Author
---
Deborah Hopkinson is the highly acclaimed author of thrilling, accessible, and compelling nonfiction for every reader. She has written over forty award-winning books, including Titanic: Voices from the Disaster, a YALSA Excellence in Nonfiction Award Finalist and Sibert Honor Book; D-Day: The World War II Invasion that Changed History; We Had to be Brave: Escaping the Nazis on the Kindertransport, which was a Kids' Book Choice Award Nominee and a Sydney Taylor Notable Book; We Must Not Forget; and her series for Grades 2-5, The Deadliest, which are action-packed, photo-filled nonfiction titles about disasters throughout history.
Praise For…
---
Praise for Courage & Defiance: Stories of Spies, Saboteurs, and Survivors in World War II Denmark:A Sydney Taylor Notable BookAn NCTE Orbis Pictus Recommended BookA Cybils Award Finalist"With numerous pictures and illustrations accompanying the text, this is a fascinating look at a little-known corner of WWII." -- Publishers Weekly"[A] spirited, inspiring, and extremely well-researched book... ideal for both classroom use and independent reading." -- BooklistPraise for Titanic: Voices from the DisasterA Sibert Honor BookA YALSA Award for Excellence in Nonfiction FinalistAn ALA Notable Children's BookAn IRA Teacher's ChoiceA Kirkus Best Young Adult Book of the YearA Horn Book Fanfare BookA Cybils Award Finalist"An affecting portrait of human ambition, folly and almost unbearable nobility in the face of death." -- The Wall Street Journal"A meticulous recounting of the disaster . . . Hopkinson's reporting is so rich with information that it will be equally fascinating to young readers and adults alike." -- Los Angeles Times"Hopkinson knows precisely what's she doing in her coverage of the Titanic disaster. . . . [A] fine book." -- The Horn Book, starred review"Fascinating . . . A thorough and absorbing re-creation of the ill-fated voyage." -- Kirkus Reviews, starred review"Riveting." -- Publishers Weekly, starred review"An absorbing and richly satisfying read." -- School Library Journal, starred reviewPraise for Up Before Daybreak"Rarely have the links between northern industry, southern agriculture, slavery, war, child labor, and poverty been so skillfully distilled for this audience." --Booklist, starred review"Superb nonfiction writing." --Kirkus Reviews, starred review"Excellent." -- School Library Journal, starred reviewPraise for Shutting Out the Sky"Nonfiction at its best." --Kirkus Reviews, starred review"[A] fascinating read." --School Library Journal, starred review

Praise for Courage & Defiance: Stories of Spies, Saboteurs, and Survivors in World War II Denmark:A Sydney Taylor Notable BookAn NCTE Orbis Pictus Recommended BookA Cybils Award Finalist"With numerous pictures and illustrations accompanying the text, this is a fascinating look at a little-known corner of WWII." -- Publishers Weekly"[A] spirited, inspiring, and extremely well-researched book... ideal for both classroom use and independent reading." -- BooklistPraise for Titanic: Voices from the DisasterA Sibert Honor BookA YALSA Award for Excellence in Nonfiction FinalistAn ALA Notable Children's BookAn IRA Teacher's ChoiceA Kirkus Best Young Adult Book of the YearA Horn Book Fanfare BookA Cybils Award Finalist"An affecting portrait of human ambition, folly and almost unbearable nobility in the face of death." -- The Wall Street Journal"A meticulous recounting of the disaster . . . Hopkinson's reporting is so rich with information that it will be equally fascinating to young readers and adults alike." -- Los Angeles Times"Hopkinson knows precisely what's she doing in her coverage of the Titanic disaster. . . . [A] fine book." -- The Horn Book, starred review"Fascinating . . . A thorough and absorbing re-creation of the ill-fated voyage." -- Kirkus Reviews, starred review"Riveting." -- Publishers Weekly, starred review"An absorbing and richly satisfying read." -- School Library Journal, starred reviewPraise for Up Before Daybreak"Rarely have the links between northern industry, southern agriculture, slavery, war, child labor, and poverty been so skillfully distilled for this audience." --Booklist, starred review"Superb nonfiction writing." --Kirkus Reviews, starred review"Excellent." -- School Library Journal, starred reviewPraise for Shutting Out the Sky"Nonfiction at its best." --Kirkus Reviews, starred review"[A] fascinating read." --School Library Journal, starred review