D-Day: The World War II Invasion that Changed History (Scholastic Focus) (Paperback)
This website will display the millions of books available to order from us online. It does not necessarily represent the current inventory at our physical store. If you'd like to know if a particular title is on hand at our store, please contact us. Thank you!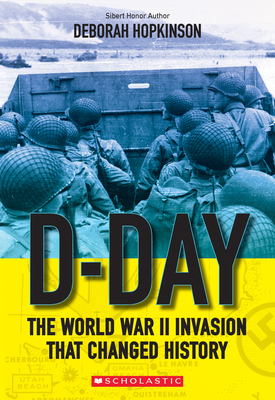 $8.99

Available from Crow via Warehouse. Usually Ships in 2-5 Days
Description
---
Sibert Honor author Deborah Hopkinson brings her signature action-packed narrative style to one of the most crucial battles of WWII.
The WWII invasion known as D-Day was the largest military endeavor in history. By June 6, 1944, Hitler and his allies had a strong grip on the European continent, where Nazi Germany was engaged in the mass extermination of the Jewish people. The goal of D-Day was the total defeat of Hitler's regime, and the defense of free democracies everywhere. Knowing they had to breach the French coast, the US, Great Britain, and Canada planned for the impossible.
D-Day was an invasion not for conquest, but liberation, and required years to plan and total secrecy to keep the advantage of surprise. Once deployed, Operation Overlord involved soldiers, sailors, paratroopers, and specialists. Acclaimed author Deborah Hopkinson weaves together the contributions of not only D-Day's famous players, but African Americans, women, journalists, and service members in a masterful tapestry of official documents, personal narratives, and archival photos to bring this decisive battle to vivid, thrilling life.
About the Author
---
Deborah Hopkinson is the acclaimed author of over 40 award-winning books, including Shutting Out the Sky, an NCTE Orbis Pictus Honor Book and a Jane Addams Peace Award Honor Book; Up Before Daybreak, a Carter G. Woodson Honor Award winner; Titanic: Voices from the Disaster, a YALSA Excellence in Nonfiction Finalist and Sibert Honor Book; Courage & Defiance: Stories of Spies, Saboteurs, and Survivors in World War II Denmark, a Sydney Taylor Notable Book and Orbis Pictus Recommended title; Dive! World War II Stories of Sailors & Submarines in the Pacific; D-Day: The World War II Invasion that Changed History; Sydney Taylor Notable Book We Had to be Brave: Escaping the Nazis on the Kindertransport; and We Must Not Forget: Holocaust Stories of Survival and Resistance. Deborah lives with her family near Portland, Oregon.
Praise For…
---
Praise for D-Day: The WWII Invasion that Changed History:* "Hopkinson has compiled a comprehensive and absorbing overview... this insightful title, chock-full of primary sources, is a strong purchase." -- School Library Journal, starred review"Hopkinson is particularly adept at directing attention to the stories behind the heroic stories." -- Bulletin of the Center for Children's Books"How does an author sequentially chronicle multiple, rapidly developing, and simultaneous events and maintain not just coherence, but suspense? Hopkinson employs her signature kaleidoscopic style effectively here: synthesizing complex events into a compelling narrative arc, and sampling myriad voices to add texture and color to the story, while never losing sight of the bigger picture." -- The Horn Book"Such major figures as Dwight D. Eisenhower and Omar Bradley get plenty of attention, but more is given to the experiences of the soldiers who waded ashore under fire or parachuted behind enemy lines. Hopkinson weaves their personal accounts with those of observations by Ernie Pyle and others to bring the invasion vividly to life... An attractively packaged, engrossing history that will appeal to readers fascinated with military strategy." -- Kirkus Reviews"With thoroughness and clarity, this title brings D-Day into focus by breaking it down into components and focusing on human voices and perspectives... provides a wealth of information clearly presented alongside many black and white photos, resulting in an engaging read even for those who may not be interested in a book about military history. The complexity of the historical task undertaken, the challenges of the terrain, and the courage required of those involved is conveyed by the author without hyperbole and by allowing the participants to tell their own stories. Highly Recommended." -- School Library ConnectionPraise for Dive! World War II Stories of Sailors & Submarines in the Pacific:* "Hopkinson crafts a gripping narrative... Fascinating World War II history for history buffs and browsers alike." -- Kirkus Reviews, starred review* "Readers wait anxiously alongside crew members amid silence and dangerous heat and oxygen levels as the submariners narrowly escape enemy detection or brace for depth charge explosions that rattle bones, fray nerves, and signal possible death... With a fascinating blend of submarine mechanics and tales of courage, readers will dive in deep." -- Booklist, starred review* "It's an appealing, engrossing package for readers fascinated by heroism and military strategy." -- The Horn Book, starred review"The real appeal, of course, is danger and heroism, and in drawing liberally from first-person accounts by surviving veterans, Hopkinson often emulates the tone of Greatest Generation memoir... And kudos to Hopkinson, whose eagle eye even located the contingent of women nurses evacuated by sub from the Philippines." -- Bulletin of the Center for Children's Books"A riveting narrative nonfiction selection for middle school collections." -- School Library Journal"The diverse individual stories... make the history come alive." -- School Library ConnectionPraise for Courage & Defiance: Stories of Spies, Saboteurs, and Survivors in World War II Denmark:A Sydney Taylor Notable BookAn NCTE Orbis Pictus Recommended BookA Bank Street Center for Children's Literature Best Children's Book of the Year selectionA Cybils Award Finalist"[A] spirited, inspiring, and extremely well-researched book... ideal for both classroom use and independent reading." -- Booklist"With numerous pictures and illustrations accompanying the text, this is a fascinating look at a little-known corner of WWII." -- Publishers WeeklyPraise for Titanic: Voices from the Disaster:A Sibert Honor BookA YALSA Award for Excellence in Nonfiction FinalistAn ALA Notable Children's BookAn IRA Teacher's ChoiceA Kirkus Reviews Best Young Adult Book of the YearA Horn Book Fanfare BookA Cybils Award Finalist"An affecting portrait of human ambition, folly and almost unbearable nobility in the face of death." -- The Wall Street Journal"A meticulous recounting of the disaster... Hopkinson's reporting is so rich with information that it will be equally fascinating to young readers and adults alike." -- Los Angeles Times* "Hopkinson knows precisely what's she doing in her coverage of the Titanic disaster... [A] fine book." -- The Horn Book, starred review* "Fascinating... A thorough and absorbing re-creation of the ill-fated voyage." -- Kirkus Reviews, starred review* "Riveting." -- Publishers Weekly, starred review* "An absorbing and richly satisfying read." -- School Library Journal, starred reviewPraise for Up Before Daybreak:* "Rarely have the links between northern industry, southern agriculture, slavery, war, child labor, and poverty been so skillfully distilled for this audience." -- Booklist, starred review* "Superb nonfiction writing." -- Kirkus Reviews, starred review* "Excellent." -- School Library Journal, starred reviewPraise for Shutting Out the Sky:A Jane Addams Peace Award Honor BookAn Orbis Pictus Honor BookAn ALA Notable BookA Sydney Taylor Notable Book* "Nonfiction at its best." -- Kirkus Reviews, starred review* "[A] fascinating read." -- School Library Journal, starred review

Praise for D-Day: The WWII Invasion that Changed History:* "Hopkinson has compiled a comprehensive and absorbing overview... this insightful title, chock-full of primary sources, is a strong purchase." -- School Library Journal, starred review"Hopkinson is particularly adept at directing attention to the stories behind the heroic stories." -- Bulletin of the Center for Children's Books"How does an author sequentially chronicle multiple, rapidly developing, and simultaneous events and maintain not just coherence, but suspense? Hopkinson employs her signature kaleidoscopic style effectively here: synthesizing complex events into a compelling narrative arc, and sampling myriad voices to add texture and color to the story, while never losing sight of the bigger picture." -- The Horn Book"Such major figures as Dwight D. Eisenhower and Omar Bradley get plenty of attention, but more is given to the experiences of the soldiers who waded ashore under fire or parachuted behind enemy lines. Hopkinson weaves their personal accounts with those of observations by Ernie Pyle and others to bring the invasion vividly to life... An attractively packaged, engrossing history that will appeal to readers fascinated with military strategy." -- Kirkus Reviews"With thoroughness and clarity, this title brings D-Day into focus by breaking it down into components and focusing on human voices and perspectives... provides a wealth of information clearly presented alongside many black and white photos, resulting in an engaging read even for those who may not be interested in a book about military history. The complexity of the historical task undertaken, the challenges of the terrain, and the courage required of those involved is conveyed by the author without hyperbole and by allowing the participants to tell their own stories. Highly Recommended." -- School Library ConnectionPraise for Dive! World War II Stories of Sailors & Submarines in the Pacific:* "Hopkinson crafts a gripping narrative... Fascinating World War II history for history buffs and browsers alike." -- Kirkus Reviews, starred review* "Readers wait anxiously alongside crew members amid silence and dangerous heat and oxygen levels as the submariners narrowly escape enemy detection or brace for depth charge explosions that rattle bones, fray nerves, and signal possible death... With a fascinating blend of submarine mechanics and tales of courage, readers will dive in deep." -- Booklist, starred review* "It's an appealing, engrossing package for readers fascinated by heroism and military strategy." -- The Horn Book, starred review"The real appeal, of course, is danger and heroism, and in drawing liberally from first-person accounts by surviving veterans, Hopkinson often emulates the tone of Greatest Generation memoir... And kudos to Hopkinson, whose eagle eye even located the contingent of women nurses evacuated by sub from the Philippines." -- Bulletin of the Center for Children's Books"A riveting narrative nonfiction selection for middle school collections." -- School Library Journal"The diverse individual stories... make the history come alive." -- School Library ConnectionPraise for Courage & Defiance: Stories of Spies, Saboteurs, and Survivors in World War II Denmark:A Sydney Taylor Notable BookAn NCTE Orbis Pictus Recommended BookA Bank Street Center for Children's Literature Best Children's Book of the Year selectionA Cybils Award Finalist"[A] spirited, inspiring, and extremely well-researched book... ideal for both classroom use and independent reading." -- Booklist"With numerous pictures and illustrations accompanying the text, this is a fascinating look at a little-known corner of WWII." -- Publishers WeeklyPraise for Titanic: Voices from the Disaster:A Sibert Honor BookA YALSA Award for Excellence in Nonfiction FinalistAn ALA Notable Children's BookAn IRA Teacher's ChoiceA Kirkus Reviews Best Young Adult Book of the YearA Horn Book Fanfare BookA Cybils Award Finalist"An affecting portrait of human ambition, folly and almost unbearable nobility in the face of death." -- The Wall Street Journal"A meticulous recounting of the disaster... Hopkinson's reporting is so rich with information that it will be equally fascinating to young readers and adults alike." -- Los Angeles Times* "Hopkinson knows precisely what's she doing in her coverage of the Titanic disaster... [A] fine book." -- The Horn Book, starred review* "Fascinating... A thorough and absorbing re-creation of the ill-fated voyage." -- Kirkus Reviews, starred review* "Riveting." -- Publishers Weekly, starred review* "An absorbing and richly satisfying read." -- School Library Journal, starred reviewPraise for Up Before Daybreak:* "Rarely have the links between northern industry, southern agriculture, slavery, war, child labor, and poverty been so skillfully distilled for this audience." -- Booklist, starred review* "Superb nonfiction writing." -- Kirkus Reviews, starred review* "Excellent." -- School Library Journal, starred reviewPraise for Shutting Out the Sky:A Jane Addams Peace Award Honor BookAn Orbis Pictus Honor BookAn ALA Notable BookA Sydney Taylor Notable Book* "Nonfiction at its best." -- Kirkus Reviews, starred review* "[A] fascinating read." -- School Library Journal, starred review