Regarding Cocktails (Hardcover)
This website will display the millions of books available to order from us online. It does not necessarily represent the current inventory at our physical store. If you'd like to know if a particular title is on hand at our store, please contact us. Thank you!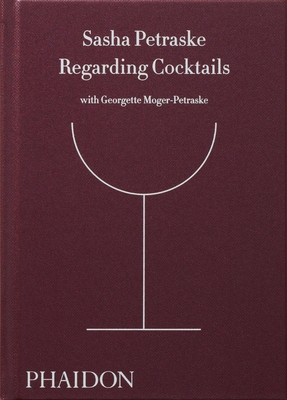 $29.95
Email or call for price.
Description
---
Regarding Cocktails is the only book from the late Sasha Petraske, the legendary bartender who changed cocktail culture with his speakeasy-style bar Milk & Honey.
Forewords by Dale DeGroff and Robert Simonson.
Here are 85 cocktail recipes from his repertoire—the beloved classics and modern variations—with stories from the bartenders he personally trained. Ingredients, measurements, and preparations are beautifully illustrated so that readers can make professional cocktails at home. Sasha's advice for keeping the home bar, as well as his musings, are collected here to inspire a new generation of bartenders and cocktail enthusiasts.
About the Author
---
Sasha Petraske opened Milk & Honey, a speakeasy cocktail bar in New York, in 2000. He later had ventures in New York, London, and Australia. Sasha and his bars won numerous competitions and awards. He lived in New York until his untimely death in 2015. His wife, New York-based Georgette Moger-Petraske, is a spirits writer.
Praise For…
---
As featured in Bloomberg Pursuits, Domino, The Globe & Mail, Food & Wine, Image, Lucky Peach, Orlando Weekly, Robb Report, Saveur, Travel + Leisure, Wine Enthusiast, and Wired, and on Chowhound, The Daily Beast, Eater, Epicurious, In Good Taste, Remodelista, and Tasting Table; as heard on Heritage Radio
"An enlightening glimpse into one of the people responsible for America's craft cocktail movement." —Epicurious
"A gorgeous gift with style kudos." —Image Interiors & Living
"Overflows with a wealth of knowledge and also offers a window into his methodical thinking process, where no detail was too small to mull over patiently." —The Daily Beast
"The cocktail bible... Makes one feel even more fortunate that we have this knowledge written down in black and white for us not only to learn from, but give us inspiration to evolve and continue our quest to enter mixology Valhalla. Sasha Petraske will be there waiting for us, Martini in hand I'm sure. Thank you for guiding us out of the desert and into our own secret oases where the milk & honey will be forever plentiful." —InGoodTasteUK.com, William Hanley
"The most beautiful cocktail book of the year." —Bloomberg Pursuits
"A brilliant, bittersweet drink manual from the late creator of this century's most influential drinking dens." —Food & Wine Online
"This book, a true labor of love, helps immortalize [Petraske's] voice and ensures that his gentle but uncompromising influence will endure for generations to come." —Tales of the Cocktail
"This sleek little volume, packed full of staple recipes and inventive new takes, will quickly become a best-loved reference book for any arbiter of spirits." —Travel + Leisure Online
"Recipes, anecdotes and all manner of tipple-related pearls of wisdom form the late, great bartender of New York City's speakeasy style Milk & Honey." —The Lady
"[B]eatifully illustrated." —Chowhound
"Should be on every drink lovers' bookshelf for its simple, delicious - and meticulous - recipes." —Daily Telegraph
"Read it and you'll be an instant mixologist." —Remodelista.com
"If you're looking for a more classically-oriented take on cocktail history and recipes, I recommend the late Sasha Petraske's Regarding Cocktails." —Saveur Online
"[G]rounded in exacting taste, and nothing less than perfection." —Wired
"Easily the most buzzed booze book of the year... Essential reading for cocktail geeks." —American Way Magazine (American Airlines in-flight magazine)
"More than just a recipe book, it's also a home bartending guide and liquid memoir." —Wine Enthusiast
"Thinking about building your dream library and brightening your coffee table with eye-candy and conversation starters? Look no further than Phaidon books." —Big Life Magazine
"This is a book that regards the home cocktail party as a serious endeavor - in a good way." —Forbes Online
"Understated and impressive... Filled with a low-key joy and embraces a no-nonsense, non-splashy approach to drink-making... Petraske's sort of civility seems something we could all use more of in the new year." —Wall Street Journal
"For bad bitches who really take their cocktail drinking seriously... A beautiful cocktail recipe bible." —TheBeautyInformer.com
"Understated and impressive... Filled with a low-key joy... Embraces a no-nonsense non-splashy approach to drink-making... As much about human connection as it is about jiggers and bitters. And Petraske's sort of civility seems something we could use more in the new year. Well, that and a stiff drink." —The Wall Street Journal Europe
"As a last testament (the book was finished by his wife), it's a gorgeous piece of work and a fascinating look inside a beautiful mind." —San Antonio Current Online
"Understated and impressive(...). Regarding Cocktails is as much about human connection as it is about jiggers and bitters. And Petraske's sort of civility seems something we all could use more of in the new year. Well, that and a stiff drink." —The Wall Street Journal
"A beautiful but bittersweet insight into Sasha [Petraske's] world, packed with recipes and stories from bartenders he trained, as well as anecdotes and musings from the man himself on everything from the home bar to posture and etiquette." —Olive
"Once you've stopped swooning over the beautiful cover, you'll find loads of gorgeous drinks from Milk & Honey's top chap inside."— DomesticSluttery.com
"This brilliant book is packed with over eighty classic and modern recipes composed by the late Sasha Petraske... It not only makes for a gorgeous addition to your bar cart, it's an excellent gift for any mixologists on your list."—goop
"Sasha Petraske's tome is filled with recipes and musings sure to delight the at-home bartender and inspire a whole new take on happy hour." —TODAY Online