Cod: A Biography of the Fish That Changed the World (Hardcover)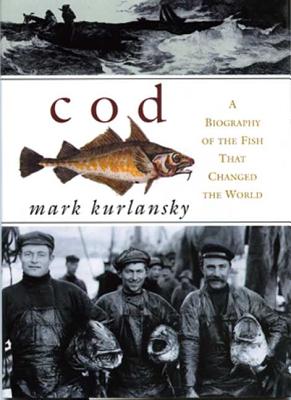 This could be called Kurlansky's "breakthrough" book, published in 1997, which put a dramatic new spin on the now pervasive genre of "Food Writing". His style is light and highly entertaining, but there is a certain sadness underpinning the telling of the thousand year history of a supremely influential industry that has, in all practicality, come to an end.
This might be the perfect book to read when you want to feed your brain something healthy, but don't feel quite up to the, as yet unopened, "definitive", 1000 page, "must read" tome that a well-meaning someone gave you a while back.
— Bob
Description
---
The codfish. Wars have been fought over it, revolutions have been spurred by it, national diets have been based on it, economies and livelihoods have depended on it, and the settlement of North America was driven by it. To the millions it has sustained, it has been a treasure more precious than gold. Indeed, the codfish has played a fascinating and crucial role in world history.
Cod spans a thousand years and four continents. From the Vikings, who pursued the codfish across the Atlantic, and the enigmatic Basques, who first commercialized it in medieval times, to Bartholomew Gosnold, who named Cape Cod in 1602, and Clarence Birdseye, who founded an industry on frozen cod in the 1930s, Mark Kurlansky introduces the explorers, merchants, writers, chefs, and of course the fishermen, whose lives have interwoven with this prolific fish. He chronicles the fifteenth-century politics of the Hanseatic League and the cod wars of the sixteenth and twentieth centuries. He embellishes his story with gastronomic detail, blending in recipes and lore from the Middle Ages to the present.
And he brings to life the cod itself: its personality, habits, extended family, and ultimately the tragedy of how the most profitable fish in history is today faced with extinction.
From fishing ports in New England and Newfoundland to coastal skiffs, schooners, and factory ships across the Atlantic; from Iceland and Scandinavia to the coasts of England, Brazil, and West Africa, Mark Kurlansky tells a story that brings world history and human passions into captivating focus.
About the Author
---
Mark Kurlansky has written articles for The New York Times Magazine, Harper's, The International Herald Tribune, and Partisan Review. He is also the author of two other books, A Continent of Islands: Searching for the Caribbean Destiny (Ballantine) and The Chosen Few: The Resurrection of European Jewry (Ballantine). When not travelling around the world, Mark makes his home in New York City with his wife and daughter.