Dear Pope Francis: The Pope Answers Letters from Children Around the World (Hardcover)
This website will display the millions of books available to order from us online. It does not necessarily represent the current inventory at our physical store. If you'd like to know if a particular title is on hand at our store, please contact us. Thank you!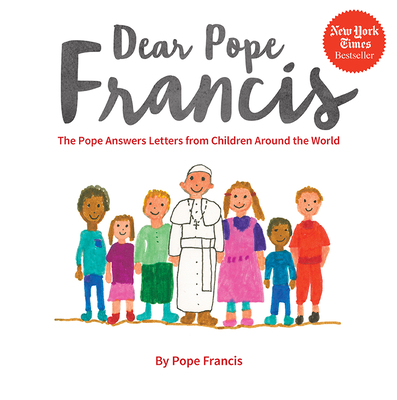 $18.95

Available from Crow via Warehouse. Usually Ships in 2-5 Days
Description
---
A New York Times Best Seller
2017 Illumination Book Awards, Gold (tie): Children's Picture Book 
2017 Independent Press Awards, Distinguished Favorite: Book Cover Design, Children's  
2017 Catholic Press Association Book Awards, First Place: Children's Books 
2017 Catholic Press Association Book Awards, First Place: Pope Francis  
2017 Association of Catholic Publishers' "Excellence in Publishing Book Awards," Book of the Year 
If you could ask Pope Francis one question, what would it be?
Children have questions and struggles just like adults, but rarely are they given the chance to voice their concerns and ask the big questions resting deep in their hearts. In
Dear Pope Francis
, Pope Francis gives them that chance and celebrates their spiritual depth by directly answering questions from children around the world. Some are fun. Some are serious. And some will quietly break your heart. But all of them are from children who deserve to know and feel God's unconditional love.
Also available in Spanish as
Querido Papa Francisco
.
"Feels akin to sitting in on a series of intimate conversations." -
Publishers Weekly
"The People's Pope shows that he is a down-to-earth man who understands both religion and children." -
Kirkus Reviews
About the Author
---
POPE FRANCIS was born Jorge Mario Bergoglio on 17 December 1936 in Buenos Aires, Argentina. As a young man, he worked briefly as a chemical technician and nightclub bouncer before entering the Jesuits. He was ordained a priest in 1969, and from 1973 to 1979, was Argentina's Provincial Superior of the Society of Jesus. He became the Archbishop of Buenos Aires in 1998, and was appointed a Cardinal in 2001. Following the resignation of Pope Benedict XVI on 28 February 2013, Bergoglio was named his successor on 13 March. He chose the name Francis in honor of Saint Francis of Assisi. He is the first Jesuit Pope, the first Pope from the Americas, the first Pope from the Southern Hemisphere, and the first non-European Pope in over 1200 years. Pope Francis has been noted for his humility, his concern for the poor, and his commitment to dialogue as a way to build bridges between people of all backgrounds, beliefs, and faiths.


Praise For…
---
Gathered from more than 250 submissions, 30 letters from children to Pope Francis are answered in a picture book that feels akin to sitting in on a series of intimate conversations. The letters, hand-written and illustrated, are reproduced on left-hand pages, along with English translations and photos of each child; the pope's answers appear opposite. The questions can be theologically intense ("If God loves us so much... why didn't he defeat the devil?"), deeply personal (Ivan, a 13-year-old from China, asks whether his non-Catholic grandfather will go to heaven), or casual and blunt ("You are not very young anymore," begins one from Dutch twins Hannes and Lidewij). The answers are rarely simple, but the pope writes respectfully and honestly, often invoking larger spiritual and social concepts (questions about soccer and dancing get answers involving teamwork and joy). The injustices of the present are often represented, as well: "In today's world there is so much suffering. And, unfortunately, you know that firsthand," Francis writes to a Syrian boy, Mohammed. It's a uniquely candid project that reveals the curiosities, dreams, and insecurities of contemporary children and offers comfort and advice from a Catholic perspective. Ages 6–up. (Mar.)
— Publishers Weekly

The People's Pope shows that he is a down-to-earth man who understands both religion and children. Left-hand pages show 30 actual letters and hand-drawn pictures from children in Jesuit institutions around the world, culled from 259 submitted, along with snapshots of the children, their names, ages, and countries, and the typed English texts of their letters. Right-hand pages, on paper meant to look like Vatican stationery, bear the pope's answers, given in an interview with editor Father Antonio Spadaro, many talking about the pictures the children have drawn. The questions ("these are tough...!") are all over the map in terms of both theology and intimacy. An 8-year-old girl from Kenya wants to know how Jesus walked on water, a 10-year-old girl from the Philippines wants to know why parents argue, and Prajla, 6, from Albania wants to know if Francis enjoyed dancing in his youth. Answering in terms children can understand, Pope Francis addresses both their questions and the fears and hopes that lie beneath them. While these questions were likely chosen to present the pope's vision and stances on many matters of Roman Catholic faith—dealing with the poor, the afterlife, prayer, evangelization, mercy (oddly, none address the environment)— that doesn't mean that his answers to these youngest of his flock are anything other than important or relevant. As Spadaro writes, Pope Francis understands that "One must not complicate God, especially if this complication distances God from the people." People's Pope indeed. (Religion. 4-12) 
— Kirkus Reviews

Francis is not just answering these questions, he is paying attention to who is asking them, and finding a way to make them feel seen.
— Maria Russo

A uniquely candid project that reveals the curiosities, dreams, and insecurities of contemporary children and offers comfort and advice from a Catholic perspective.
— Publishers Weekly

Pope Francis is delightfully present in his answers to the collection of letters written him by children across the world.
— Aleteia.com

Dear Pope Francis offers a quiet profundity that even non-believers can get into.
— Quartz.com

Many of the common themes in the children's letters will show your own kids that we have things in common with people all over the globe.
— Popsugar.com

Dear Pope Francis is a beautiful collection of questions that the world, no matter what age, shares. It's a book that brings the world together and focuses on faith. There is no book like this collection.
— BeliefNet.com

Hidden in this deceptively simple book is a great deal of profound theology, explained simply and directly.
— James Martin, SJ