Who Belongs Here?: An American Story (Paperback)
This website will display the millions of books available to order from us online. It does not necessarily represent the current inventory at our physical store. If you'd like to know if a particular title is on hand at our store, please contact us. Thank you!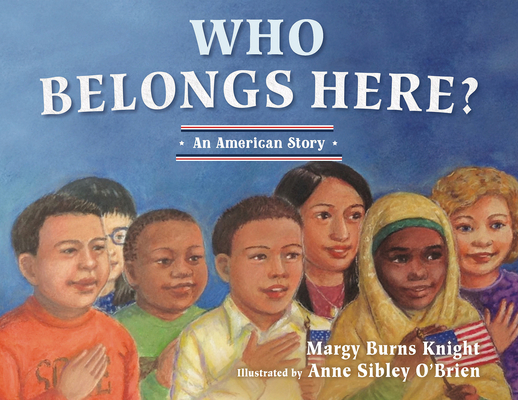 $9.95
Email or call for price.
Description
---
120,000 copies sold!  
Who Belongs Here? tells the story of a boy who, having been forced to flee his war-torn country, struggles to be accepted by his new classmates in the U.S. Some kids think he should go back where he belongs, but what if everyone whose family came from another place was forced to return to his or her homeland? Who would be left?  
A new introduction traces the waves of immigration that have built America and celebrates the Muslim and Latino immigrants who are today contributing to America's future. The book's new cover shows a group of kids—sons and daughters of newly arrived immigrants--taking their oath of citizenship. This story is more timely now than ever.
Long an anchor text for school units on immigration and tolerance, Who Belongs Here? is now renewed in look and content. Teaching compassion for recent immigrants while sharing the important contributions made by immigrants of the past, this story is more relevant now than ever.
In this probing, plain-spoken book, based on a true story, Margy Burns Knight and Anne Sibley O'Brien, author and illustrator of the acclaimed "Talking Walls," invite young readers to explore the human implications of intolerance. Anecdotes relating the experiences of other refugees and their contributions to American culture play counterpoint to Nary's tale, all enlivened by O'Brien's full-color pastels. A compendium at the end of the book offers more detailed information about Pol, Pot, Ellis Island, and other topics in this text.
Who Belongs Here? will lead to discussions about


The effects of war on children and families


Refugees and relocation processes in the U.S.Cambodian culture


U.S. History and attitudes towards immigration


Bullying and intolerance


Conflict-resolution skills


Lexile Level 1040
Fountas and Pinnell Level W

About the Author
---
MARGY BURNS KNIGHT received the National Education Association's Author-Illustrator Human & Civil Rights Award for her work with Anne Sibley O'Brien and the Children's Africana Book Award for Africa Is Not a Country. She is the author of Talking Walls, which has sold more than 200,000 copies. She writes a blog, "Discover Your World," and is a Service Learning Coordinator, an English teacher, and a Peace Corps veteran.

ANNE SIBLEY O'BRIEN has illustrated 31 books, including Talking Walls, and is the author and illustrator of the picture book I'm New Here and the graphic novel The Legend of Hong Kil Dong. Annie's passion for multiracial, multicultural, and global subjects grew out of her experience of being raised bilingual and bicultural in South Korea as the daughter of medical missionaries. She writes the column "The Illustrator's Perspective" for the Bulletin of the Society of Children's Book Writers and Illustrators and a blog, "Coloring Between the Lines." The mother of two grown children, she lives with her husband on an island in Maine.
Praise For…
---
A new introduction traces the waves of immigration that have built America and celebrates the Muslim and Latino immigrants who are today contributing to America's future. The book's new cover shows a group of kids—sons and daughters of newly arrived immigrants—taking their oath of citizenship. This story is more timely now than ever. Long an anchor text for school units on immigration and tolerance, Who Belongs Here? is now renewed in look and content. Teaching compassion for recent immigrants while sharing the important contributions made by immigrants of the past, this story is more relevant now than ever. In this probing, plain-spoken book, based on a true story, Margy Burns Knight and Anne Sibley O'Brien, author and illustrator of the acclaimed "Talking Walls," invite young readers to explore the human implications of intolerance. Anecdotes relating the experiences of other refugees and their contributions to American culture play counterpoint to Nary's tale, all enlivened by O'Brien's full-color pastels. A compendium at the end of the book offers more detailed information about Pol Pot, Ellis Island, and other topics in this text. Who Belongs Here? will lead to discussions about the effects of war on children and families, refugees and relocation processes in the U.S.

— I'm Your Neighbor

Following their well-received Talking Walls , Knight and O'Brien again
team up for an affectionate if didactic exploration of connections among
people world-wide. This time the message is filtered through the
experience of Nary, a Cambodian refugee who immigrates to the U.S. with
his grandmother after the death of both parents. Hostility toward
immigrants and the impetus to work for change are explored. The central
question, "What if everyone . . . whose ancestors came from another
country was forced to return to his or her homeland? . . . Who would be
left?" signals the book's design as a vehicle for discussion. The text
itself pairs Nary's story with italicized information on immigration to
the U.S. This strategy is only intermittently effective; younger readers
may not be capable of making the conceptual jumps both Knight and
O'Brien require, while older readers may chafe at the picture-book
format. These limitations notwithstanding, the volume provides strong
starting points for ongoing explorations of multicultural themes. Ages
7-13.
— Publishers Weekly

Grade 3-5-Drawing on her experience as an ESL teacher, Knight introduces
the fictional character Nary, a 10-year-old boy from Cambodia.
Accompanying his story of leaving his homeland and settling in this
country is a parallel text, set in italics, that expands some of the
ideas presented. Sometimes it provides background information on U.S.
immigration or history; at other times it serves to stimulate
discussion, particularly on such topics as intolerance and prejudice.
Notes in the back give additional material on individuals (Pol Pot, Dith
Pran, Dolores Huerta) and concepts introduced earlier. Three-quarters
of each double-page spread is covered with brightly colored,
impressionistic pastel illustrations. Unfortunately, the texts do not
blend well. Nary's story is choppy; the italicized portions are often
superficial and not always relevant. For information strictly on
Cambodian immigrants, consult Nancy Graff's Where the River Runs
(Little, 1993).Diane S. Marton, Arlington County Library, VA Copyright 1993 Reed Business Information, Inc.
— Diane S. Marton, Arlington County Library, VA - School Library Journal

Gr. 4-7. After escaping the killing fields of Cambodia and living in a
refugee camp in Thailand, 10-year-old Nary (a composite character drawn
from students that Knight has known as an ESL teacher) is now adjusting
to his new home in the U.S. The amount of food in the grocery stores
amazes him, and he likes eating pizza and ice cream. But sometimes his
classmates are mean to him, calling him names and telling him to "get
back on the boat and go home where you belong." In counterpoint to
Nary's story, Knight includes information about other refugees and their
contributions to the U.S. and challenges readers to confront difficult
questions about immigration, racism, and multiculturalism: "What if
everyone who now lives in the U.S., but whose ancestors came from
another country, was forced to return to his or her homeland?" This book
is similar to the author and illustrator's other collaborative effort, Talking Walls
(1992), in that Knight's text compassionately explores the complex
issues and O'Brien's full-color pastel illustrations personalize the
experiences of Nary and other new Americans. An attractive and telling
picture book that provokes a dynamic dialogue about one of the most
fundamental questions before our country. Annie Ayers
— Annie Ayers - Booklist