Ensnared in the Wolf's Lair: Inside the 1944 Plot to Kill Hitler and the Ghost Children of His Revenge (Hardcover)
This website will display the millions of books available to order from us online. It does not necessarily represent the current inventory at our physical store. If you'd like to know if a particular title is on hand at our store, please contact us. Thank you!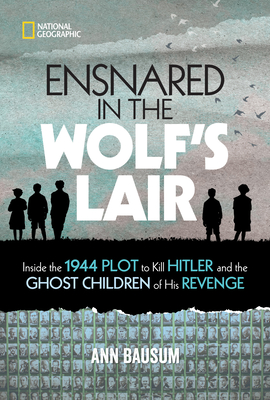 $19.99

Available from Crow via Warehouse. Usually Ships in 2-5 Days
Description
---
"I've come on orders from Berlin to fetch the three children." --Gestapo agent, August 24, 1944
With those chilling words Christa von Hofacker and her younger siblings found themselves ensnared in a web of family punishment designed to please one man—Adolf Hitler. The furious dictator sought merciless revenge against not only Christa's father and the other Germans who had just tried to overthrow his government. He wanted to torment their relatives, too, regardless of age or stature. All of them. Including every last child. Praise for Ann Bausum's The March Against Fear "An exceptionally well-written and -researched chronicle of a crucial civil rights turning point."--Kirkus, starred review "This exemplary look into civil rights history concludes with perspective and encouragement regarding ongoing struggles for social change."--Publishers Weekly, starred review "A must-have volume." --School Library Journal, starred review
About the Author
---
ANN BAUSUM is an award-winning children's book author who brings history alive by connecting readers to personal stories from the past that echo in the present day. The Wolf's Lair is her 11th book for National Geographic Kids and her fourth look at international history. While researching the book, she traveled twice to Europe to get to know the people and places that became intertwined in 1944 after the failed effort to kill Hitler at the Wolf's Lair. Previously Bausum has explored international history with such works as Stubby the War Dog; Denied, Detained, Deported; and Unraveling Freedom. Many of her books highlight themes of social justice, including her National Geographic title The March Against Fear. In 2017, her body of work was honored by the Children's Book Guild of Washington, DC. Individual titles have won numerous starred reviews and been recognized with a Sibert Honor Award, the Jane Addams Children's Book Award, the Carter G. Woodson Award, and the SCBWI Golden Kite Award, among other distinctions.
Praise For…
---

Ann Bausum's engrossing Ensnared in the Wolf's Lair details Adolf Hitler's sweeping revenge against participants (and their families) in a failed coup and assassination attempt.
Bausum charts Hitler's rise to power and the subsequent resistance by German dissidents that culminated in a failed attack on Hitler at his isolated military outpost, the Wolf's Lair. Trusted associates and community leaders banded together against the regime to mount an assault code-named Operation Valkyrie. When the plot deployed on July 20, 1944, it was only a series of coincidences that saved Hitler's life. The vast reach of Valkyrie fueled Hitler's mounting paranoia. His policy of Sippenhaft--or "family punishment"--implicated relatives in anti-Nazi conspiracies and demonstrated Hitler's merciless commitment to retaining political control. Within weeks, the investigators held some 700 extended family members, and Gestapo agents seized detractors' youngest children, holding them in a secluded rural facility. Through primary resources, emphasizing four detainees who offered her their first-person accounts, Bausum recounts the heartbreaking months of isolation and anxiety suffered by the young prisoners, who became known as "the ghost children."—Shelf Awareness, starred review


German 12-year-old Christa von Hofacker's diary, like Anne Frank's, provides a child's window into WWII, helping to tell the fascinating and shocking story of how German families were made to pay the price when a plot to kill Hitler by German military leaders and officers failed. Operation Valkyrie's failure prompted a vindictive Hitler to retaliate against all the conspirators' family members in what is known as Sippenhaft (kin liability). The book describes Hitler's rise to power and explains the reasons for this attempt (and others) on his life. It tensely recounts the events on the fateful day when Operation Valkyrie was attempted and failed and the fate that awaited the conspirators and their families: their children were taken away without explanation and hidden at a secluded retreat called the Borntal. Their names were changed, and they were forbidden to speak when outside, and called "ghost children" by observers. Bausum collects firsthand accounts from Christa and other survivors, their experiences lending authenticity and immediacy to the history. Few records about Sippenhaft survived so this extensively researched book offers an eye-opening look at an unforgettable historical event. Back matter includes a time line, family lists, resources and resource notes, maps, and archival photos and illustrations. Highly recommended.—Booklist, starred review


Gr 7 Up–A compelling account of the Valkyrie plot to assassinate Adolph Hitler in 1944 and the brutal aftermath of the plot's failure. The text begins with an overview of how Hitler utilized a blend of personality, propaganda, and fear to assume total control of the German government after the death of Chancellor Hindenburg in 1932. The majority of people living under Hitler's regime who objected to his rule were terrified to express dissent because of his policy of retaliation. When prominent military men attempted to assassinate Hitler at his retreat known as the Wolf's Lair in the Valkyrie plot and failed, Hitler's retribution was particularly brutal. The German word Sippenhaft, which means "clan arrest" but is usually translated as "family punishment," epitomizes the scale of Hitler's revenge on the Valkyrie participants and their families. Forty-six children from 19 high-ranking Nazi families who survived the beginnings of the Sippenhaft were sent to a tourist town in central Germany called Bad Sachsa. The children were forbidden to use their family names, to enroll in school, to go to church, or even to speak when outdoors. A time line, a list of the Sippenhaft families, a resource guide, a note from the author, and research notes are included.
VERDICT A well-researched, detailed account of a part of World War II that remains unknown to many today. For those who enjoyed The Book Thief by Markus Zusak and Hitler Youth: Growing Up in Hitler's Shadow by Susan Campbell Bartoletti.—School Library Journal, starred review