The Unofficial Harry Potter Cookbook: From Cauldron Cakes to Knickerbocker Glory--More Than 150 Magical Recipes for Wizards and Non-Wizards Alike (Unofficial Cookbook) (Hardcover)
This website will display the millions of books available to order from us online. It does not necessarily represent the current inventory at our physical store. If you'd like to know if a particular title is on hand at our store, please contact us. Thank you!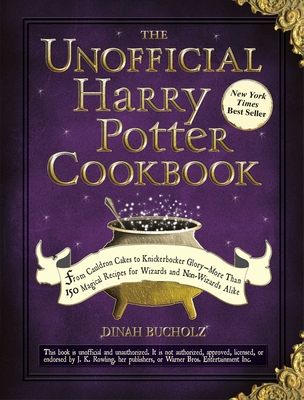 $19.95

Available from Crow via Warehouse. Usually Ships in 2-5 Days
Description
---
"A fun way to get kids interested in Harry Potter also interested in food." —New York magazine

Conjure up feasts that rival the Great Hall's, sweets fit for the Minister of Magic, snacks you'd find on the Hogwarts Express, and more with this bestselling unofficial Harry Potter cookbook—no wands required!

Bangers and mash with Harry, Ron, and Hermione in the Hogwarts dining hall. A proper cuppa tea and rock cakes in Hagrid's hut. Cauldron cakes and pumpkin juice on the Hogwarts Express.

With this cookbook, dining a la Hogwarts is as easy as Banoffee Pie! With more than 150 easy-to-make recipes, tips, and techniques, you can indulge in spellbindingly delicious meals drawn straight from the pages of your favorite Potter stories, such as:

Treacle Tart—Harry's favorite dessert
Molly's Meat Pies—Mrs. Weasley's classic dish
Kreacher's French Onion Soup
Pumpkin Pasties—a staple on the Hogwarts Express cart

With a dash of magic and a drop of creativity, you'll conjure up the entrees, desserts, snacks, and drinks you need to transform ordinary Muggle meals into magical culinary masterpieces, sure to make even Mrs. Weasley proud!
About the Author
---
Dinah Bucholz is the bestselling author of The Unofficial Harry Potter Cookbook. She lives in Philadelphia with her husband where she spends her time cooking and writing.
Praise For…
---
"If your kids love Harry Potter, nothing is going to inspire them to get in the kitchen like this cookbook. Some of the best parts of the Harry Potter books are the rich descriptions of the holiday feasts at the Great Hall. With this book, your kids can make Harry's favorite dessert (treacle tart, of course). They can make the mince pies that Mrs. Weasley sends Harry every Christmas, and the pumpkin pasties from the Halloween feast scene I loved reading as a kid. They can even make Mrs. Dursley's pudding—the one Dobby destroys in the beginning of The Chamber of Secrets. As long as you don't mind your kids going down the weird meat-pie, haggis, and Scotch collop–filled path that is the world of British food, this book is sure to be a hit."

—Epicurious

"Cooking dishes from popular fantasy books—from Harry Potter to A Game of Thrones to the Twilight vampire tales—has become a pastime for fans seeking to immerse themselves in their favorite fictional worlds. Literary foodies are trading tips on how to cook eel pie and nettle soup, sharing ideas on blogs, YouTube and Twitter, and occasionally scoring cookbook deals. The Unofficial Harry Potter Cookbook, which came out last year, has sold more than 150,000 copies."

—The Wall Street Journal

"Manage all your kitchen mischief, such as Cauldron Cakes and Molly's meat pies. We won't tell if you pretend your mixing bowl is a cauldron."

—BookRiot



"This book could rightly be regarded as something like a portkey; to open it is to at once be transported back to a living world of … culinary delights. A pleasant stroll down memory lane with old friends. It's a walk worth taking for many reasons, not least of which is the abundance of good eating to be shared along the way."

—Flavorful World

"If your loved one in a whiz in the kitchen, they'll love the Unofficial Harry Potter Cookbook. This top-rated cookbook has recipes for all the classic Harry Potter treats, from Treacle Tart to Pumpkin Pasties. Maybe if you're lucky, the recipient will share the magical results with you!"

—Reviewed.com

"Includes recipes for the fictional foods from the series, like cauldron cakes and treacle, and is a fun way to get kids interested in Harry Potter also interested in food."

—New York Magazine

"Maybe you already have all seven volumes of Harry Potter, but do you have the unofficial cookbook? Featuring delicious recipes from the wizarding world, including Cauldron Cakes and Butterbeer, it's the only guide you need to throwing the ultimate Hogwarts-style feast."

—Bustle

"The Unofficial Harry Potter Cookbook is filled with all of the delicious, magical recipes from your favorite wizarding world — and don't worry, they're all perfectly safe for Muggles. Let your mouth water at the thought of lemon drops, cauldron cakes, and pumpkin pasties, all listed with easy-to-follow instructions and context from the Harry Potter books themselves. For example, the lemon drop recipe … makes a reference to a conversation between Harry and Professor McGonagall … which is what makes this book so darn cool. Plus, the recipes … offer everything you could possibly want on any given day, focusing on a banana bunch of English foods that range from savory to sweet."

—Buzzfeed

"The food in the Harry Potter series has had us drooling for over a decade … but now you can finally make your own! The Unofficial Harry Potter Cookbook will have you performing absolute magic in the kitchen … . These easy-to-follow recipes are apparently delicious and don't require you to be a master chef either, meaning this is an essential book for yourself and for any budding chefs in the family. Time to dust off your cauldrons and get cooking!"

—Pretty52

"A truly brilliant idea that combines a beloved children's literary classic with an old-fashioned recipe book. Designed to look and feel more like a literary companion with excerpts from the books providing context for each recipe … your little wizard will be able to serve up a pint of freshly made pumpkin juice, then imagine he's sitting down to a feast in the Hogwarts dining hall."

—EatingWell

"A Harry Potter cookbook with 150 easy-to-make recipes so they can shine some lumos on you and your friends of their spell-binding cooking ability."
—Buzzfeed


"A magical cookbook that'll have you sipping on gin and [pumpkin] juice in no time. Hate pumpkin juice? FINE! This also contains recipes for treacle tarts, rock cakes, kippers, and more."

—Buzzfeed

"This cookbook lets them recreate some of the gang's favorite meals, drinks, and sweet treats. It's got all the classics … plus it tells you exactly where in the books to find the references to each food."

—Business Insider

"Is your pal an expert chef? Gift them this Harry Potter cookbook, complete with 150 magical recipes."

—Scary Mommy

"Awesome gift idea for the avid reader who loves the Harry Potter series."

—The Greatest Gift Guide

"The Unofficial Harry Potter Cookbook will help you make magic in the kitchen for wizards and muggles alike."

—Taste of Home

"The Harry Potter series is filled with all sorts of fantastic magic, but some of the most memorable moments are centered around the fantastic edibles that J. K. Rowling created. Lucky for all of us muggles, Dinah Buchholz has penned The Unofficial Harry Potter Cookbook, a guide to recreating all sorts of witchy and wizardy vittles introduced throughout the series."

—Serious Eats

"With this cookbook, dining a la Hogwarts is as easy as Banoffi Pie. With more than 150 easy-to-make recipes, tips, and techniques, you can indulge in spellbindingly delicious meals drawn straight from the pages of your favorite Potter stories." —Maria's Space blog

"After a long winter's day, ever wish you could just cozy up in the Burrow and have Molly Weasley whip you up a little roast chicken with mashed potatoes? Now you can...with a bit of Muggle work. There are some delectable-sounding treats, including a lot of stick-to-your-ribs winter fare. It sure is fun cooking to these literary references. And if you have any plans to throw a Harry Potter theme party, this cookbook is a must-have."

—GeekMom

"From Cauldron Cakes to Pumpkin Pasties...this magical tome for muggles is filled with awesome facts about each recipe."

—The Book Table Blog

"We love it!! In fact, we're such geeks, my husband and I planned our weekly date nights around this book. This book has everything Harry Potter. Not only does this cookbook have delicious recipes that make me feel like I'm in the Harry Potter story, but it cites each recipe from the book, so I know exactly where to imagine myself while eating these delicious treats. So...if you are geeky (like we are) and love good recipes (which we do), I highly recommend this cookbook!"

—Pink Apron blog

"This cookbook is extremely comprehensive. With more than 150 recipes, it includes foods explicitly mentioned in the Harry Potter books. The author includes historical tidbits about the recipes. I love this kind of thing. The cookbook features delicious-sounding dishes that you could easily whip up in your own kitchen."

—Food Lush blog

"Extensive… legitimately helpful."

—BookRiot

"Filled with tasty, unique recipes that are surprisingly simple to make- no magic required!"

—Kitchenistic

"An excellent gift idea for any fan."

—Merch Dope

"This imaginative book is a must-have."

—Spy.com

"A terrific resource."

—Houstonia Mag

"Will basically be your ticket on the Hogwarts Express."

—Buzzfeed

"A fabulous holiday present."

—New York Post

"Even muggles can create some magic in the kitchen with this Harry Potter-inspired cookbook."

—Good Housekeeping

"With this book, there'll be plenty of recipes to master during the quarantine."

—Mediafeed

"This unique collection will excite and satisfy the tastebuds of any fan."

—Variety

"Perfect for anyone who likes to spend time in the kitchen."

—Reader's Digest

"Contains classic British recipes that any muggle would love."

—USA TODAY

"A great way to get kids excited about cooking."

—Financial Buzz

"A great way to get kids excited about cooking."

—Financial Buzz

"This imaginative book is a must-have."

—Spy

"Mouthwatering."

—Mental Floss

"Spell-binding recipes."

—Stylecaster

"Easily one of the best children's cookbooks."

—Romper

"This unique collection will excite and satisfy the tastebuds of any fan."

—Variety

"Staying in the kitchen feels a little more magical."

—Advise Eating