Blackthorn's Botanical Brews: Herbal Potions, Magical Teas, and Spirited Libations (Hardcover)
This website will display the millions of books available to order from us online. It does not necessarily represent the current inventory at our physical store. If you'd like to know if a particular title is on hand at our store, please contact us. Thank you!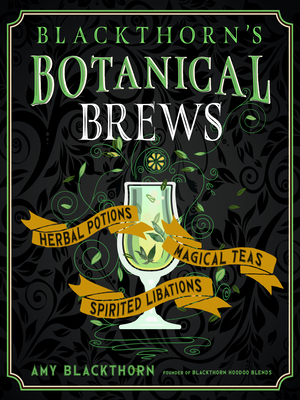 $18.95

Available from Crow via Warehouse. Usually Ships in 2-5 Days
Description
---
"An absolutely exceptional magical resource that you'll enjoy reading cover to cover! From teas and kombucha, to liquors and liqueurs, and even a few delectable bites, author Amy Blackthorn's zesty, exciting writing and impressive knowledge will inspire your kitchen witchery."
-- Julia Halina Hadas, author of WitchCraft Cocktails: 70 Seasonal Drinks Infused with Magic and Ritual
Blackthorn's Botanical Brews
has something for everyone. This book outlines the magical uses for many well-loved, traditional beverage ingredients found throughout time. Readers learn what potions are, what purpose they serve, and how to create their own brews, bitters, vermouth, and kombucha, as well as how to blend the perfect tea for their magical desires.
Included::
•Getting to Know Your Spirits
•Adding Magic to Your Daily Activities
•In the Kitchen
•In the Bar
•Fruit Feeling Frisky (Making Sodas and Syrups)
•Herbal Beers, Mead, and Cider
•What to Do with Leftover Potions?
About the Author
---
Amy Blackthorn has a certification in aromatherapy and incorporates her experiences in traditional witchcraft with her horticulture studies. Amy's company, Blackthorn Hoodoo Blends, creates tea based on old Hoodoo herbal formulas.
Praise For…
---
"Blackthorn's Botanical Brews is a lighthearted but practical approach to spells, sips, and sensational libations. Amy Blackthorn combines magical working with simple ideas and recipes for potions, herbal teas and cocktails that hold enough power for your next ritual celebration but are delicious enough to share with friends and family. Amy's knowledge of herbalism and lore give the practitioner an in-depth understanding of potion-making for modern Pagans." 
— Dawn Aurora Hunt, owner of Cucina Aurora Kitchen Witchery, and author of A Kitchen Witch's Guide to Love & Romance

"Amy Blackthorn has done it again and done it with luscious writing and a lip-smacking presentation of brews and potions. She takes us through the basics of magic and teases the reader with the tools of this particular craft. This book is clever, clear and--dare I say?--delicious."
— H. Byron Ballard, homebrewer, and author of Embracing Willendorf: A Witch's Way of Loving Your Body to Health and Fitness.

"Amy Blackthorn makes magic accessible with easy to follow recipes, using easily procured ingredients for relatable scenarios.  Even the most seasoned of mixologists will be inspired by this delightful collection of cocktails, mocktails. and more."
— Camille Kea, certified hypnotherapist, past- life regressionist, tarotista, and former Oakland Nightlife Examiner at Examiner.com

"Amy Blackthorn has written a book combining the science and magic of mixology. Her recipes for magical intent are a must read for anyone looking to expand their potion and libation abilities"  
— Jon Talkington -owner and meadmaker of The Brimming Horn Meadery

"Filled with helpful potion and spell-building information, Blackthorn's Botanical Brews by Amy Blackthorn features recipes for delicious infusions and syrups with which to make magical beverages with sober versions thoughtfully included. A fun magical twist to cocktail hour and, of course, for ritual gatherings."
— Kathleen Cowley, chocolatière and owner of Enchanted Chocolates of Martha's Vineyard.

"Blackthorn's Botanical Brews is an exceptionally good read. I can imagine regularly grabbing this fun, witty, information-rich gem from my cookery and magic bookshelf to make magical cocktails, tisanes, and libations  or parties, spells, and magical gatherings of all sorts. Interwoven with the magical mixology runs a thread of well-founded solid magical praxis designed to elucidate, educate, and entertain. For anyone who works their magic with food and drink and herbs, this book is a must have. I give it 5 out of 5 cocktail shakers!"
— Gwion Raven, author of The Magick of Food: Rituals, Offerings & Why We Eat Together

"Tea, tonics, cocktails and potions!  Have you ever enjoyed an afternoon into its evening, sitting at an old, polished bar, while a careful blender performed their art for you?  If you enjoy a good drink -- an accomplished drink --you will discover many within Blackthorn's Botanical Brews.  This is a master Book of Shadows for a damn good drink with purpose, penned with knowledge and skillful wort cunning.  All the historical bells and mixers are available in this book.  What better timing than now for imbibing with witchcraft?"  
— Gwendolyn H. Barry, blender and owner of Daughters of Isis, Inc.

"While revealing the magick in everyday activities such as preparing a cup of tea or mixing a cocktail, Blackthorn expertly anticipates readers' questions and answers them with a grounded understanding of the magickal principles that govern spells and libations. Filled with clever cocktail recipes, as well as sober solutions, Blackthorn incorporates magickal correspondences for her ingredients that lend power and lore to her lovingly crafted libations. You may never look at a martini glass in quite the same way after taking in Blackthorn's magickal take on potions. With an elixir for every occasion, expect to be delighted and charmed by this refreshing and original practical guide."
— Judy Ann Nock, author of The Modern Witchcraft Guide to Magickal Herbs and other books.

 "Blackthorn's Botanical Brews: Herbal Potions, Magical Teas, and Spirited Libations is an absolutely exceptional magical resource that you'll enjoy reading cover to cover! From teas and kombucha, to liquors and liqueurs, and even a few delectable bites, author Amy Blackthorn's zesty, exciting writing and impressive knowledge will inspire your kitchen witchery. For everyone from beginner to advanced practitioner, Blackthorn's Botanical Brews will guide you on how to embrace the innate magical potential of everyday libations and inspire you to express and imbibe your own unique approach to magic."
— Julia Halina Hadas, author of WitchCraft Cocktails: 70 Seasonal Drinks Infused with Magic and Ritual.

"Amy Blackthorn has concocted an ingenious book. More than just a simple recipe book, Blackthorn's Botanical Brews contains the deep understanding, research, and creative cleverness expected from a well-seasoned witch like Blackthorn. Drawing upon the art of witchery's traditional concepts, theories, and tools, Amy applies them to the art of crafting drinks in an imaginative and fun way,  transforming ordinary teas, cocktails, and mocktails into powerful potions with formulas that are just as delicious as her insights."
— Mat Auryn, author of Psychic Witch: A Metaphysical Guide to Meditation, Magick, and Manifestation