Desert Diary: Japanese American Kids Behind Barbed Wire (Hardcover)
This website will display the millions of books available to order from us online. It does not necessarily represent the current inventory at our physical store. If you'd like to know if a particular title is on hand at our store, please contact us. Thank you!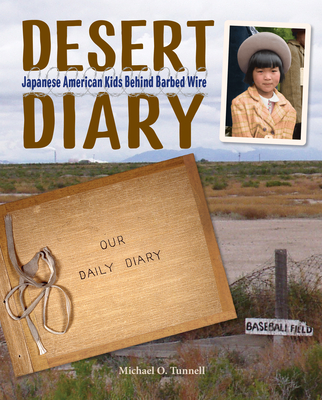 $19.99
Email or call for price.
Description
---
A moving primary source sheds light on the experience of Japanese American children imprisoned in a World War II internment camp.

A classroom diary created by Japanese American children paints a vivid picture of daily life in a so-called "internment camp." Mae Yanagi was eight years old when she started school at Topaz Camp in Utah. She and her third-grade classmates began keeping an illustrated diary, full of details about schoolwork, sports, pets, holidays, and health--as experienced from behind barbed wire. Diary pages, archival photographs, and narrative nonfiction text convey the harsh changes experienced by the children, as well as their remarkable resilience.
About the Author
---
Michael O. Tunnell is a retired professor of children's literature and the author of several books for young readers, including Candy Bomber: The Story of the Berlin Airlift's "Chocolate Pilot," an Orbis Pictus Honor book. While writing Desert Diary, he had the privilege of interviewing Mae Yanagi and many of her former classmates from Topaz Camp.
Praise For…
---
♦ This nonfiction resource spotlights the experiences of families of Japanese ancestry imprisoned at Topaz Camp, in Utah, during World War II. Miss Yamauchi, a teacher at Mountain View School, and her third grade students discussed what was happening at school and at home. She would write a summary of their experiences on a new page in their class daily diary. Students would take turns illustrating a page with pencil and crayon drawings. These pages provide a window into the children's perspectives and emotions during this dark event in American history. Eleven chapters focus on various aspects of the students' daily life. Color pages from the diary and numerous black-and-white historic photographs complement the text. An epilogue, an author's note, a glossary, an editor's note on terminology, a note on the photos, photo credits, source notes, a selected bibliography, and an index are included. In her editor's note, Alyssa Mito Pusey, a fourth-generation Japanese American, explains how she and the author worked carefully together to make thoughtful word choices regarding the use of terms such as internment or internment camp. VERDICT This well-researched primary source provides a close look at the daily lives of Japanese American children and their families who were forced out of their homes during World War II. An illuminating addition to all library shelves that challenges readers to think about how people can learn from history and its reverberations.
—School Library Journal, starred review


A look into a third grade class's daily diary while imprisoned. In December 1941, one year after the bombing of Pearl Harbor, those of Japanese ancestry, or Nikkei, living on the West Coast were torn from their homes and sent to prison camps. By 1943, 8-year-old Mae Yanagi and other Japanese American children were starting school in Topaz Internment Camp in Utah. Mae's third grade class started an illustrated diary of their daily life at camp. Diary entries included details about positive things, like schoolwork, sports, pets, and holidays. Often entries also mentioned injuries, illnesses, and goodbyes experienced by the students and the other captives. Quotes from prisoners of all ages are interlaced throughout, allowing their voices due prominence. By highlighting the children's classroom diary, Tunnell gives today's young readers a primary source from the perspectives of their peers. Images of diary pages fill in the gaps of the archival photos that too often hid the injustice. One entry notes that several blocks lost their running water; another records the loss of a roof to a storm. The selections throughout carefully balance harsh experiences with incredible resilience. An author's note shares the heartwarming story of how he was able to meet and interview many of the children who wrote the diary; an editor's note discusses the decision not to use the terms internment camps or internees.
Informative, moving nonfiction that allows the Topaz detainees to share their story.
—Kirkus Reviews


From March through August of 1943, Miss Yamauchi and her third-grade students collaborated on a diary of happenings around the neighborhood—the fenced and guarded Topaz encampment in Utah where they and other West Coast Japanese immigrants and Japanese-American citizens were, under Executive Order 9066, forced to live. This diary, now housed in a Utah historical museum, becomes an important referent for Tunnell's heavily illustrated introduction to children's life at Topaz. Themed chapters such as "Barracks, Mess Halls, and Latrines," "School Days," and "Take Me Out to the Ball Game" highlight activities that spark reader curiosity, but the book often covers events and practices outside the diary's narrow scope, and frequent references to author Yoshiko Uchida (not one of the subject students) are unexplained. Diary entries, illustrated by the children, are strongly appealing, but with their collective, sentence-long observations, they are difficult to coordinate with the multi-themed narrative, and it takes time and plenty of inference to work out that Miss Yamauchi's tidy printing captured (and likely polished) her students' remarks. There's much here to appreciate in terms of visual and textual detail, but overall there's a missed opportunity to let the children's own scattershot concerns and authentic, uninterpreted voices take the lead. Copious end matter includes an author's note on Tunnell's research and interview process, a glossary, a note on terminology, photo information, source notes, a bibliography that highlights youth resources, and an index.
—The Bulletin of the Center for Children's Books


As a result of the bombing of Pearl Harbor and FDR's ensuing Executive Order 9066, eight-year-old Mae Yanagi and her family were uprooted from their home in Hayward, California, and forced to relocate to Topaz, a so-called Japanese internment camp (see appended note on terminology) in the desert of central Utah. Mae's third-grade class kept a journal that year, and her journal is used as a starting point to explore, in eleven chapters, what it was like to live in Topaz, especially from a child's viewpoint. Tunnell (The Children of Topaz) touches on such topics as holiday observances, medical care, pets, recreation, and religious worship. The reminiscences of Mae and her classmates are aptly woven in to the narrative, and the resiliency of these children is inspiring. Numerous black-and-white photographs as well as color reproductions of the journal entries—there's something on nearly every page—break up the text, while the ample back matter includes an enlightening chapter-long author note, photo notes and credits, source notes, a glossary, a selected bibliography, and an index.
—The Horn Book