Growing Friendships: A Kids' Guide to Making and Keeping Friends (Paperback)
This website will display the millions of books available to order from us online. It does not necessarily represent the current inventory at our physical store. If you'd like to know if a particular title is on hand at our store, please contact us. Thank you!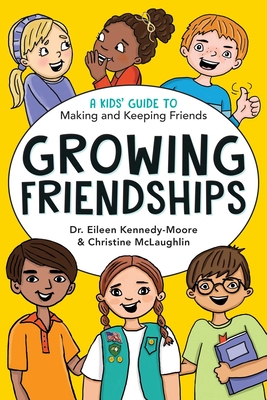 $16.99

Available from Crow via Warehouse. Usually Ships in 2-5 Days
Description
---
From psychologist and children's friendships expert Eileen Kennedy-Moore and parenting and health writer Christine McLaughlin comes a social development primer that gives kids the answers they need to make and keep friends.

Friendships aren't always easy for kids. Almost every child struggles socially at some time, in some way. Having an argument with a friend, getting teased, or even trying to find a buddy in a new classroom…although these are typical problems, they can be tough. Children want to fit in, but sometimes getting along with friends is complicated. Psychologist and children's friendship expert Eileen Kennedy-Moore and parenting and health writer Christine McLaughlin give kids the answers they need to make and keep friends using five essential skills:

-Reaching Out to Make Friends
-Stepping Back to Keep Friends
-Blending In to Join Friends
-Speaking Up to Share With Friends
-Letting Go to Accept Friends

With research-based, practical solutions and plenty of true-to-life-examples of social skills in practice—presented in lighthearted humorous cartoons—Growing Friendships is a toolkit for both boys and girls as they make sense of the social environment around them. They will learn how to be open to friendship, choose kind friends, and most important, be a good friend.
About the Author
---
Eileen Kennedy-Moore, PhD, is an internationally published author, psychologist, and mother of four. She is a trusted expert on parenting and children's feelings and friendships who is frequently quoted in major magazines and newspapers and has been a featured guest on national radio and television shows. Her books have been translated into seven languages. She is a professor for the Great Courses, serves on the advisory board for Parents magazine, and writes the popular Growing Friendships blog for Psychology Today. Dr. Kennedy-Moore has a private practice in Princeton, New Jersey, where she works with adults, children, and families. Visit her online at EileenKennedyMoore.com.

Christine McLaughlin is a prolific freelance writer, editor, and author whose work focuses primarily on parenting and health. She has published several hundred articles in national magazines and high-traffic websites. She is also author of The Dog Lover's Companion to Philadelphia, Philadelphia: A Photographic Portrait, and Bayada: 40 Years of Compassion, Excellence and Reliability, and coauthor of the American Red Cross: Dog First Aid and Cat First Aid books. She and her husband live in the Philadelphia area with their three children and a lovable golden retriever. Visit her online at ChristineMcLaughlin.net.
Praise For…
---
"Growing Friendships is the secret playbook you'll wish you'd had when you were growing up. It's packed with clever strategies that help kids handle the awkward, upsetting, and confusing social situations that happen to everyone. The fun cartoons make the advice light-hearted and easy to swallow."
— Diane Debrovner, deputy editor of

"Finally! A gap in the literature of friendship is filled. Growing Friendships is profound and subtle, clear and humorous. Anyone, of any age, who reads it will benefit."
— Wendy Mogel, PhD, author of The Blessing of a Skinned Knee

"Kids who have social skill challenges often view friendship as an event or a product (Hi, I'm Michael. Let's be best friends and have a sleepover tonight.). They do not understand that friendship is a PROCESS with specific steps and sequences. Eileen Kennedy-Moore brings a wealth of experience, knowledge, and sensitivity to this issue. Her book Growing Friendships teaches kids the strategies they can use to establish--and maintain--peer relationships. Her unique and entertaining format holds the child's attention and makes these complex concepts understandable and within reach. It will be an invaluable tool for parents and professionals as they try to prevent their child from hearing the most dreaded words in childhood: 'Sorry, you can't sit there. That seat's taken.' "
— Richard D. Lavoie, author of It's So Much Work to be Your Friend

"Funny, practical, and not at all preachy—Growing Friendships offers spot-on, research-based friendship advice for girls AND boys. Highly recommended! This must-read book is the Google Maps to friendship that every kid needs "
— Michele Borba, author of Unselfie

"This book is so important! All children face friendship challenges at some point and Growing Friendships offers kids real help—and enough giggles to make the messages fun and memorable."
— Amy McCready, author of If I Have to Tell You One More Time and The "Me, Me, Me" Epidemic

"Some kids intuitively know how to make and manage friendships. Most don't. Growing Friendships is a kid-friendly guide that uses simple language, engaging illustrations, and humor to help girls AND boys master the mysteries of social interaction."
— Jennifer L. W. Fink, founder of BuildingBoys.net

"Practical examples, real-life solutions, and playful humor make Growing Friendships a great resource. This insightful guide can help kids become competent problem solvers, cope with common social challenges, develop empathy, and build strong friendships."
— Tina Payne Bryson, PhD, coauthor of bestsellers The Whole-Brain Child and No-Drama Discipline

"This empowering and entertaining guide for kids shows ways to maneuver the often tricky, confusing, and challenging journey to build and maintain positive friendships. Not only do children learn strategies to make new friends, handle stressful situations, say 'no' to a pushy peer, and be a great team member, Growing Friendships makes the process fun and meaningful for the entire family."
— Marilyn Price-Mitchell, PhD, developmental psychologist and founder of Roots of Action

"Children's friendships are a rollercoaster of emotion and conflict—fun and exciting when a friendship is going well, but challenging and even crushing when it's not. Growing Friendships taps into the real-life problems kids face—from the friend who tells your secret to the one who likes you one day and won't play with you the next. This spot-on guide navigates the slippery slope of inevitable difficulties with kid humor and compassion to demonstrate not only how to mend friendships or let them go, but also how to be a good friend. If you have school-age children they—and you—need this book."
— Susan Newman, PhD, social psychologist and author of Little Things Long Remembered and The Case for the Only Child

"The complexities of friendships in the school-aged years can be the most perplexing for students, parents, and educators alike. Growing Friendships gives research-based, concrete, and effective solutions for navigating these relationships. A tool every school should have!"
— Kelly Bos, MSW, RSW, psychotherapist, parent, and former school counselor

"For any child struggling with friendships, this book will be a source of comfort, guidance, and fun, with its wonderful illustrations and child-centered dialogue. Counselors, psychologists, and parents, this is a book to read with the children you care about."
— Maurice J. Elias, PhD, Rutgers University, coauthor of The Joys and Oys of Parenting and Emotionally Intelligent Parenting

Written for kids (specifically 6 -9 year olds) this is a book that parents will want to read as well. It offers some terrific advice for helping young people navigate the complicated waters of social interaction. These authors return to the basics to explain social and face-to-face communication skills to children who are living in a mostly virtual world. What appears to be silly dialogue between a cartoon cat and dog, actually contains some powerful lessons about how to approach and interact with other children. The fact that it makes these encounters humorous allows children to feel more comfortable about risking personal contact with other children. Making friends and keeping them, joining the fun, how to share, when to say NO, dealing with bullying, joining a group, and moving past conflict are all topics which are discussed in kid-friendly terms with real-world applications. In our fast-paced and disruptive world, we're losing sight of the kitchen-table wisdom that children used to take refuge in. This book puts kids and their parents back in touch with basic, tried and true, social skills, and the ways in which those skills can be used.

— Retailing Insight

Kennedy-Moore and McLaughlin highlight five skills—reaching out, stepping back, blending in, speaking up, and letting go—to help readers make and maintain friendships. Each chapter introduces a dilemma relating to one of 15 fictional kids: Aiden tries too hard to be funny, Susan assumes that others are being mean behind her back, and Mackenzie has trouble joining a group. Mingus's cartoon spot illustrations and comics sequences add humor and help illustrate various points (such as the "power difference" involved in bullying, versus other social conflicts). Multiple-choice quizzes and reader-directed questions ("Do you have a habit of apologizing when you didn't do anything wrong?") invite children to apply these ideas to their own developing relationships.
— Publishers Weekly

A how-to book for making friends, if clear and entertaining as well as informative, could be a very useful tool.Many kids struggle with the myriad aspects of navigating the day-to-day complexity of interpersonal relationships. Combining real-life examples, attractive cartoon illustrations, and humorous commentary from a snarky cat and a friendly dog, this upbeat effort provides ample useful advice. Making friends and keeping them, dealing with bullying and distinguishing it from simple teasing, speaking up for oneself and others, being a good sport, figuring out how to join in a group activity (including choosing the right activity to join), and matching the tone of a conversation are just a few of the topics covered. The presentation is clear, reasonable, and specific enough to be practical, and it begins with very basic skills such as greeting others. Practice situations, including a couple where friends won't take no for an answer, provide opportunities to try new skills in low-stress situations. This handbook is highly recommended for high-functioning autistic children as well as anyone who suffers from social awkwardness. The cover depicts both a white and a black child. The simple chapter format makes it possible to just practice certain skills without having to read through the entire work. A fun handbook for any child who has ever wanted another friend but been uncertain how to accomplish that. (Nonfiction. 8-12)
— Kirkus Reviews

For children and preteens, perhaps no other aspect of life is as stressful as making and maintaining friendships. The author team of Kennedy-Moore and McLaughlin offers sound advice from the perspectives of psychologist, parent, blogger, and therapist. Using fun cartoons, relatable stories, metaphors, and bulleted summaries, this provides basic skills training for kids looking to widen their socialcircles. From reaching out to make initial contact with potential friends, through navigating tricky situations and mitigating arguments, myriad issues are described. Readers areencouraged not to just follow prescribed advice but to consider the feelings of others and to use their own judgment in choosing a course of action. Many of these skills are important lifelong lessons that will benefit readers long after their adolescence. While skills like saying no and compromising may be intuitive to some, for many others, particularly those in their awkward preteens, the advice in the book will be invaluable. This is an authoritative and appealing resource for children working on fitting in and finding a tribe. — Erin Anderson
— Booklist

This guide to friendships is simply illustrated and full of useful information. Written by a child psychologist and a professional parenting writer, this book goes over basic information explaining how body language and verbal signals can help signal the progression of a friendship. It provides basic coping skills for anxiety so that readers can attract more friends. There is also a section on bullying and learning to say no. The information is a lot to digest for a younger crowd, while the conflicts presented are too young for a middle grade audience. Recurring dog and cat mascots are supposed to provide a bit of levity but just end up being diverting. The section on blending in may put off more independent and individualistic types, and the section on anxiety isn't always clear about the feelings it's trying to help children cope with. Overall, though, the information is accurate and helpful. VERDICT A decent guide for younger middle grade collections, even adults could learn something from this book.
— School Library Journal