The Most Beautiful Thing (Chinese Edition) (Paperback)
This website will display the millions of books available to order from us online. It does not necessarily represent the current inventory at our physical store. If you'd like to know if a particular title is on hand at our store, please contact us. Thank you!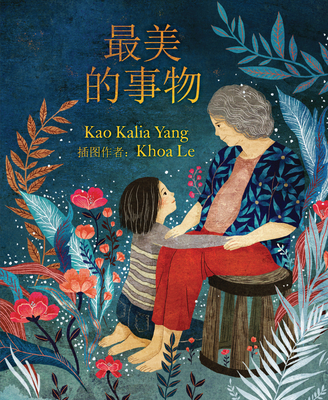 $17.99
Email or call for price.
Description
---
A warmhearted and tender true story about a young girl finding beauty where she never thought to look, now in Simplified Chinese (Mandarin).
Drawn from author Kao Kalia Yang's childhood experiences as a Hmong refugee, this moving picture book portrays a family with a great deal of love and little money. Weaving together Kalia's story with that of her beloved grandmother, the book moves from the jungles of Laos to the family's early years in the United States.
When Kalia becomes unhappy about having to do without and decides she wants braces to improve her smile, it is her grandmother--a woman who has just one tooth in her mouth--who helps her see that true beauty is found with those we love most. Stunning illustrations from Vietnamese illustrator Khoa Le bring this intergenerational tale to life.
"A deep and moving reflection on enduring hardship and generational love. . . . Poignant storytelling with stunning visuals."--starred, Kirkus Reviews

"A sincere narrative that centers on the power of family love."--starred, School Library Journal
Minnesota Book Award Finalist, ALA Notable Children's Book, New York Public Library Best Book for Kids, NPR Best Book of the Year
这是一个温情温柔的真实故事,讲述一个年轻女孩在她从未想过的地方发现了美。
这本感人的图画书取材于作者 Kao Kalia Yang 作为苗族难民的童年经历,描绘了一个没有钱却充满爱的家庭。这本书将 Kalia 的故事和她深爱的祖母的故事交织在一起,讲述了她们一家从老挝丛林到早年在美国的生活。
当 Kalia 对勉强度日感到不高兴,决定要戴牙套来改善自己的笑容时,是她那嘴里只剩一颗牙齿的祖母帮助她明白,真正的美存在于我们最爱的人身上。越南插画家 Khoa Le 创作的精彩插图让这个代际故事变得生动起来。
"对忍受苦难和两代人之间的爱做了深刻而感人的反思。......以出色的图画讲述辛酸的故事。"--星级书评,《柯克斯书评》

"一篇以亲情的力量为中心的真挚故事。"--星级书评,学校图书馆杂志
明尼苏达图书奖入围图书、美国图书馆协会 (ALA) 著名儿童图书、纽约公共图书馆最佳儿童图书、美国国家公共电台 (NPR) 年度最佳图书